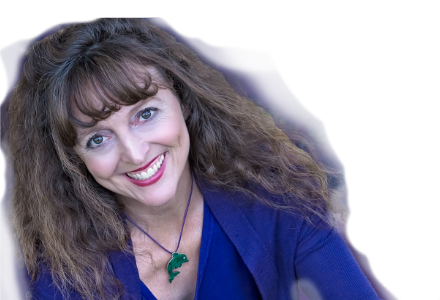 MARLA STEELE  |  VOICE OF THE ANIMALS  |  OFFICIAL BIO
Marla Steele is a Professional Pet Psychic, Medium and Reiki Master working with both human and animal clients since 2000. She first became aware of her intuitive abilities as a young child through vivid psychic dreams. It wasn't until her late twenties when she got her first horse that she realized she was communicating with animals telepathically.
As a voice for animals, Marla reveals their preferences, pinpoints discomfort, negotiates behavior and reveals how they heal and mirror people. She specializes in delivering messages from pets that have passed on proving that they are still close by.
Her sessions contain a blend of intuition and energy healing with Reiki, Angels, Matrix Energetics, Flower Essences and Aromatherapy.
Although Marla has a degree in broadcasting, she quips that now she is the medium. She has appeared on several mainstream radio and tv shows for the past 13 years. She published a series of Animal Chakra Dowsing Charts; the Animal Communication Journeys guided meditation cd, and is a contributing author to When Heaven Touches Earth; A Little Book of Miracles, Marvels & Wonders and 365 Days of Angel Prayers.
In her Access Animal Consciousness training program, Marla teaches others how to talk to, listen, and heal animals and their people at a soul level. She lives in the Northern California Wine Country town of Petaluma—yes a town with 'pet' in the name. Marla receives continuing education credits from her dog, cats, and horses.
MEDIA FEEDBACK
JOHNJAY & RICH SHOW | SYNDICATED
"We don't know how she does it but Marla somehow gets right to the personality of a pet. She can "spot" pain, read "dog" vibes… she even can talk to cats…and no one can figure out cats. She's a great guest that will light up a switchboard and make you wanna run home to hug your dog.. or lizard..or whatever… I'm not judging."
~Rich Berra, Co-Host
BRENT FARRIS MORNING SHOW | KZST | SANTA ROSA, CA
"It's the biggest show we do, from the moment she starts people can't get in. That's how popular she is. That's why she's such a valued member of our team and one of our most sought-after station personalities since 2003."
~Brent Farris, Host
Marla Steele KZST Personality Page
JAN D'ATRI SHOW – 550 KFYI  | I2  | PHOENIX, AZ
"I've never quite witnessed anything like it. When Marla taps into what a pet is thinking, feeling, wishing and wanting, she's always–and I mean always– right on. How do I know? Years of having her on my radio show as a guest and sitting back and listening to tears of joy, happiness, sadness, grief and relief from the many, many listeners jamming the phone lines to connect with her. Why? Because she nails it every time. She will tell you what your pet wants you to know, and that is powerful! She is a beautiful spirit and a bright, bright light in this world!"
~Jan D'Atri, Host
COREY FOLEY 95.7-FM THE WOLF | SAN FRANSISCO
"Marla has changed my life, not only professionally but personally. She connects with both animals and people on a level I've never experienced before. I have watched as she brings comfort and closure to listeners, as well as insight into something a pet owner may not have even been aware of. I always feel like I want more time with her and I know our fans feel the same way. The best part is that not only will she let you know what your furry friend needs, but she taps into what you need as well. The world is a better place with Marla in it and I consider myself blessed to call her a friend."
~Corey Foley, Host
Brent Farris Morning Show | KSZT (www.kzst.com)
Santa Rosa CA
Listen: KZST Radio Sample 1
Listen: KZST Radio Sample 2
Dave Ryan in the Morning | KDWB-FM
Minneapolis MN
Listen: KDWB Radio Sample
Steve and Vikki Show | STAR 94 (www.star94.com)
Atlanta GA
Listen: Star 94 Atlanta Radio Sample